The prophet Zechariah (זְכַרְיָה) foresaw the future Messianic Era when the various fast days of the Jewish year will be transformed into to appointed times of great joy (Zech. 8:19): "Thus says Adonai Tzeva'ot (יהוה צְבָאוֹת): The fast of the fourth month (Tzom Tammuz), and the fast of the fifth month (Tishah B'Av), and the fast of the seventh month (Tzom Gedaliah), and the fast of the tenth month (Asarah b'Tevet), will be to the house of Judah for joy and rejoicing, and for pleasant appointed seasons, and the truth and the peace they have loved (וְהָאֱמֶת וְהַשָּׁלוֹם אֱהָבוּ)."

Because of this prophecy of coming consolation for Israel, on the Sabbath immediately following the fast of Av (i.e., Tishah B'Av) we recall the promise of coming comfort from the LORD God of Israel. Therefore the sages named this Sabbath the "Sabbath of Comfort" (i.e., shabbat Nachamu: שַׁבַּת נַחֲמוּ) and assigned the prophetic portion from the Book of Isaiah that begins: נַחֲמוּ נַחֲמוּ עַמִּי - Nachamu, Nachamu ami - "be comforted, be comforted, my people..." (Isa. 40:1). The sages reasoned that the word nachamu was repeated to offer consolation for both Temples that were destroyed. Thematically, this Shabbat marks a time of joy over anticipated comfort: Despite present tribulations, the LORD will vindicate His glory and completely ransom His people.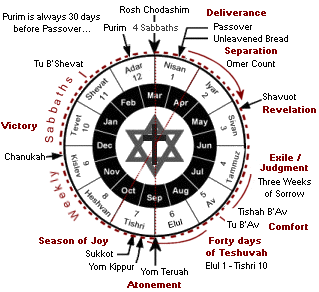 Shabbat Nachamu marks the start of a series of seven weekly readings related to the final redemption of the Jewish people - and indeed the entire world (these readings are sometimes called "The Seven Haftarot of Consolation," or "Shiva D'nechemta" in Aramaic). In other words, we have seven weeks to prepare for the start of the new year (Rosh Hashanah) and the High Holidays - a prophetic season that concerns the return of Yeshua. From the Sabbath following Tishah B'Av until Rosh Hashanah, we read words of comfort from the prophets. These selections foretell the the restoration of the Jewish people to their land (the ingathering of the exiles), the future redemption of Israel, and the coming of the Messianic Era. May Yeshua return soon, chaverim!

Note: Parashat Vaetchanan is always read on the Sabbath following Tishah B'Av.